Login
Log in if you have an account
Dont have an account? Register
Animals Behind Herbivore: Krysti!
30 Jun 2017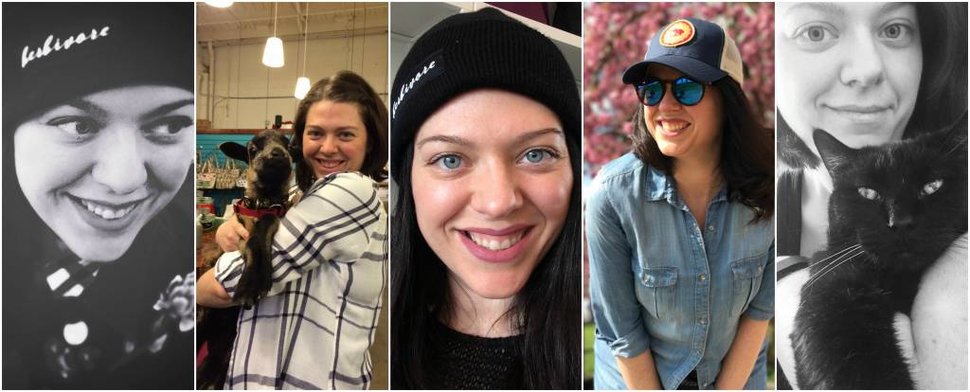 Krysti Weddle: IT Babe, Kombucha Queen, Instant-Pot Expert
How long have you been vegan?
I have been vegan for 10 1/2 years!
Describe your "aha vegan" moment.
I was a vegetarian about a year before I went vegan. My "aha vegan" moment came when I really educated myself about dairy (where it comes from, how much the animals suffer, and how the dairy industry operates). I knew vegan was the only way to go. I have never looked back.
What is your primary Vegan Reason (animal rights, human rights, environmentalism, health)?
I am vegan for all reasons. Vegan for animal rights, environmentalism, health. I am vegan because I want to exist in this world in the kindest, most mindful way possible. I believe that I am not above any other being, and using animals is wrong. I also see my veganism as a way to view basic human rights and social justice. The same ways that animals are used and abused, there are humans who experience the same systematic abuse and oppression. I want to live in a way that ensures that I am not contributing to cruelty and suffering. I want to be kind, and not eating animals is where it starts.
What do you love most about being vegan?
Well, the FOOD! I love to cook. I love to eat. Becoming a vegan opened my life up to more amazing delicious food than eating the standard American diet ever could. I taught myself to cook, and I discovered that eating plants is f***ing awesome! I love knowing that I can choose a way of eating and living that does not cause harm to animals and is the healthiest way to nourish yourself! (I mean, have you seen Forks Over Knives or What The Health?!?!)
What's the best advice you could give a new vegan (or, what do you wish someone had told/advised you)?
Learn to cook! Experiment and try lots of foods you have never tried before. As you eliminate meat and dairy from your diet your taste buds will change and you may find that you like foods that never thought you would (I'm looking at you, brussels sprouts). Find a community of like minded vegans, even if it is online. Having a support system and knowing that you are not alone is essential!
What's your Herbivore Story (how did you end up working here)?
My husband and I were married in Kansas in 2010 and chose to honeymoon in Portland. We wanted a place where we could eat tons of yummy vegan food and have lots of adventures. I had been following Herbivore on social media for a few years before we came to visit Portland and was SO EXCITED to visit the Vegan Mini-Mall. We had such a wonderful experience shopping in the store and meeting Michelle. We chatted about how we were both from Kansas. My husband and I moved to Portland in 2013 and in 2015 I started working for the store that made such a huge impression on my life so many years before. It has been a long strange trip and I could not be happier or more thankful to be a part of Team Herbivore!
"To me, veganism is all about…"
Compassion. Having compassion for animals, yourself, and those around you. Put compassion and kindness out into the universe and good things will come.
What's your favorite...
Animal? Cats! (I have two).


Vegan restaurant/food cart? A.N.D. Cafe, Homegrown Smoker, The Sudra, Farm Spirit.


Desert Island food? Hummus and kombucha, and vegan beer. Wait, do I have to pick just one?!


Energizing breakfast necessity? Coffee!!!!! Shout out to my fav: Cellar Door!


Veg product? Though not a strictly vegan product, my Instant Pot has been a game changer.


Herbivore design? I'm Vegan and I Love You! It was the very first Herbivore shirt design I ever purchased and the message has a special place in my heart!


Vegan Idol? Michelle Schwegmann-- Yeah, yeah, sounds like I am sucking up to my boss, but hear me out! Michelle has been influencing my veganism since before I ever met her. Her and Josh's T-shirt designs were the first way that I was able to express my veganism in a public way. They showed me that there is a vegan community out in the world that feels and thinks the same way I do (which is something that was not that easy to find in Kansas). She is a strong amazing woman who has been standing up for what she believes in for so many years, and she inspires me every day! As far as strong vegan female role models go, she is my #1!
My #2 is Isa Chandra Moskowitz, author of Veganomicon. The Veganomicon was my very first vegan cookbook. She essentially taught me to cook as a vegan and I have never met one of her recipes that I didn't love. She is my rock star, lady chef, girl crush! <3
- - -

Keep up with "Herbivore Stories" to learn more about our team (the animals behind Herbivore), the issues we are passionate about, our wonderful vendors, our favorite recipes, and much more!
Instagram @herbivoreclothing
Facebook @herbivoreclothingcompany