Login
Log in if you have an account
Dont have an account? Register
The Seitanic Spellbook * Vegan Black Metal Chef EVENT
30 Nov 2017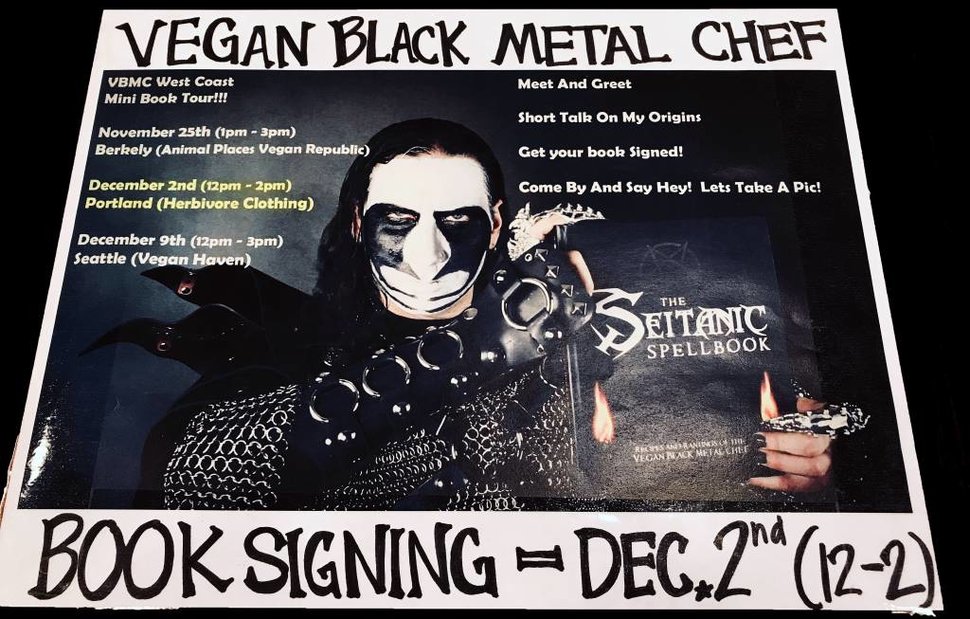 Praise Seitan!
We are honored to have the VBMC agree to be our featured Herbivore Animal. 
 
How long have you been vegan?
About 16 - 17 years

What was your "aha vegan" moment?
I was vegetarian for 3ish months before attending an animal rights group meeting of the animal activists of alachaua at University of Florida in Gainesville.  There they showed some undercover investigation farm videos and I said OK, now I'm vegan.

What is your primary Vegan Reason (animal rights, human rights, environmentalism, health)?
I do not believe in the exploitation of animals.  All the other things are pretty great, too.

What's been the best part of being vegan?
Everything, especially the food.

What did you/do you still struggle with?
The social conditioning of others.

What's the best advice you could give a new vegan (or, what do you wish someone had told/advised you)?


How To Be Vegan.




"To me, veganism is all about liberation, because you get to aid in the liberation of animals and yourself from some deeply entrenched social conditioning."


Favorite...
Animal?
All of them

Vegan restaurant/food cart?
Damn, there are so many good ones. That isn't fair.

Desert Island food?
Mmmmmmm sand and despair

Energizing breakfast necessity?
Yes

Veg product (not necessarily food related)?
The sun

Vegan Idol?
Smash all the idols, they will only let you down

Song?
Duran Duran's "Ordinary World" has been stuck in my head all week



SATURDAY

. 

NOON

. YOU MUST ATTEND.