NEW STORE LOCATION! 81 SE Yamhill Street, Portland, OR, 97214
Login
Log in if you have an account
Dont have an account? Register
The Vegan High Five Issue 6
11 Feb 2020
Vegan Bon Appetít

Have you ever seen that cartoon that shows a person talking to a dog, and the word bubble shows what the person is saying, and then what the dog is hearing? It goes like this, "Ginger, blah blah blah Ginger, blah Ginger, blah blah blah blah Ginger." It's so funny, right?

That is EXACTLY how I am with Bon Appetit Magazine. They're like, "Cow Ribs salad, Chicken & Pig sandwich, Baby Rabbit stew, etc." And all I see is, "Seitan salad, Engiri mushroom sandwich, Chickpea stew...." You feel  me?
Yeah, you feel me. #veganizeit

SO -- basically (which is another Bon Appetit email I get, I know, I'm obsessed!!) I veganize EVERYTHING from BA. I love the challenge, every bit of it. And over the past few weeks I've stress cooked a couple of really good meals! Read on!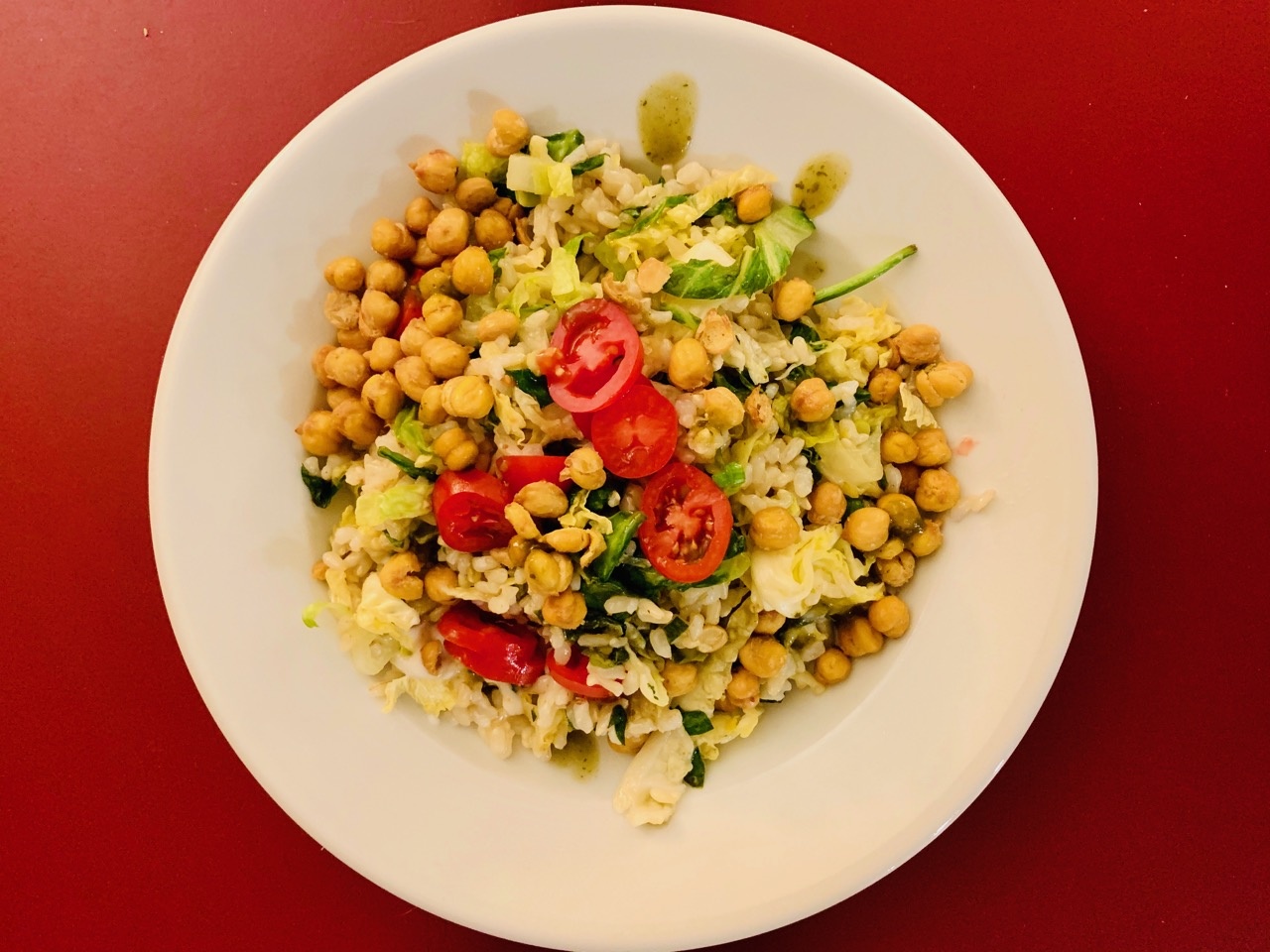 Here is the "Rent Week Rice & Greens" which I made with spinach, napa cabbage, cilantro and romaine. I added roasted salt and pepper chickpeas, some fresh tomato and the green dragon hot sauce from TJ's. This recipe was vegan already, but whatever. Bon Appetít, baby!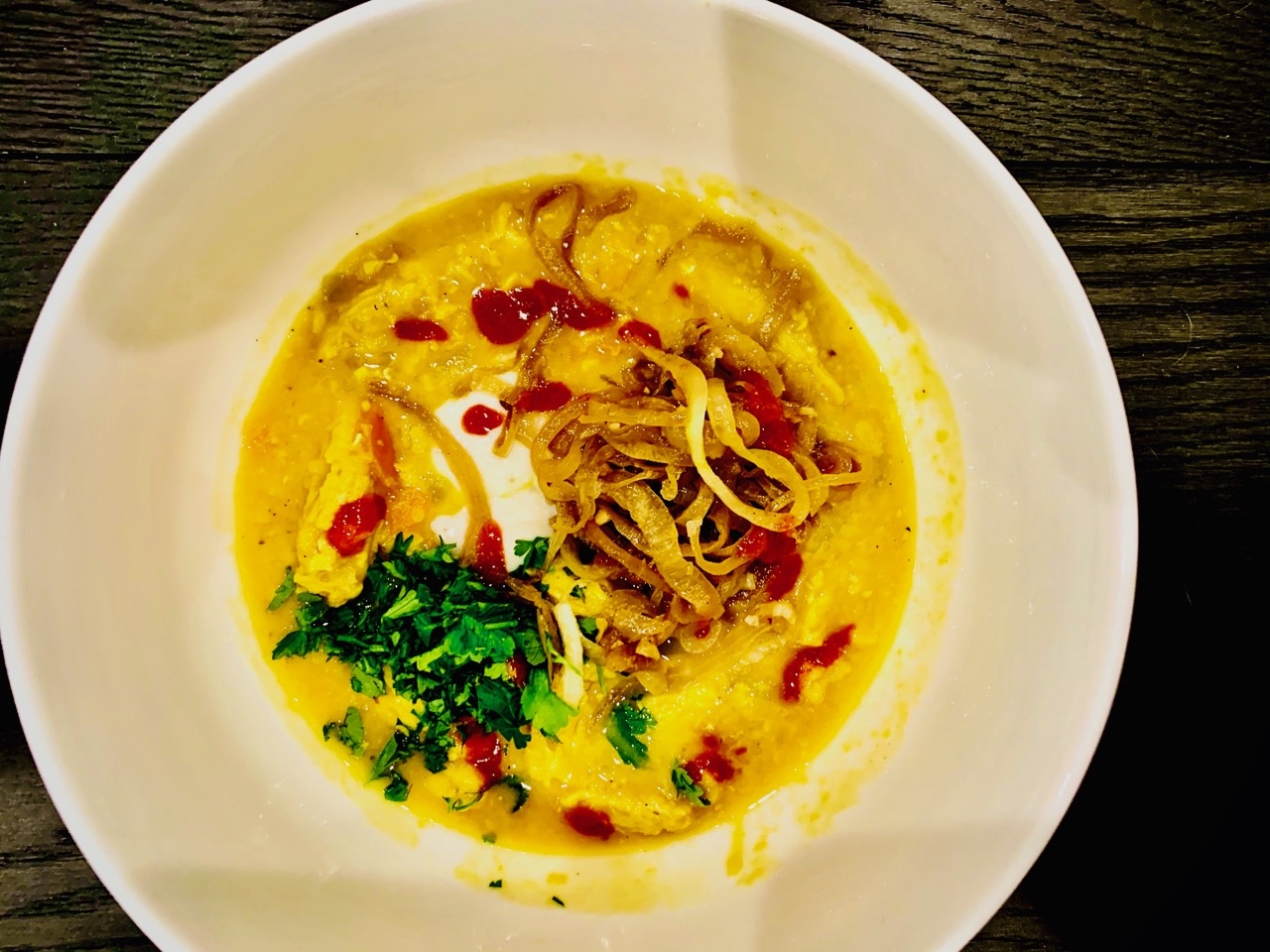 Pardon the bad shadows, but it was dark and I was ready to eat! This is the "Soy Curl Lentil Soup with Jammy Onions" and boy oh boy, did the family like this one! No chickens harmed, thank you very much. But those red lentils make the most delicious, thick broth, and caramelized onions are pretty much heaven. I never use the copious amounts of olive oil that any BA recipe calls for. I find it much to, well, oily, and unnecessary. Besides that, I followed this recipe pretty closely. The tart yogurt was an exceptional topping, too.
OK. Remember a few weeks ago when we made seitan? The second half of the roast became this meaty "Seitan Marbella." The original recipe calls for pig, (just typing that makes me cringe) but I am here to tell you the seitan stood in with pride in the recipe! The sauce is made with wine, plums, capers, olives, red wine vinegar and more - I followed it pretty closely, used less oil, added sweet potatoes, and chopped the plums rather than simply tearing them. (Torn prunes? Gimme a break.) It was good that I chopped them, because they broke down and created a sweet yet tangy sauce. Josh was not into the plums, Ruby and I dug it more. But anything with capers and olives is going to be good, because, capers and olives. Amiright?
OK. These "Chickpea Chorizo Tostadas" are a total freaking winner. So few ingredients for such a big taste. Use  the vegan chorizo from TJ's if you can get it. Use the entire can of garbanzos because DUH, more beans. I used more cilantro because we love it. Damn, looking at this again I am so glad I am telling y'all about it!! 
Anyhoo -- Vegan Bon Appetít!