NEW STORE LOCATION! 81 SE Yamhill Street, Portland, OR, 97214
Login
Log in if you have an account
Dont have an account? Register
Vegan High Five Issue 20! May 22, 2020
21 May 2020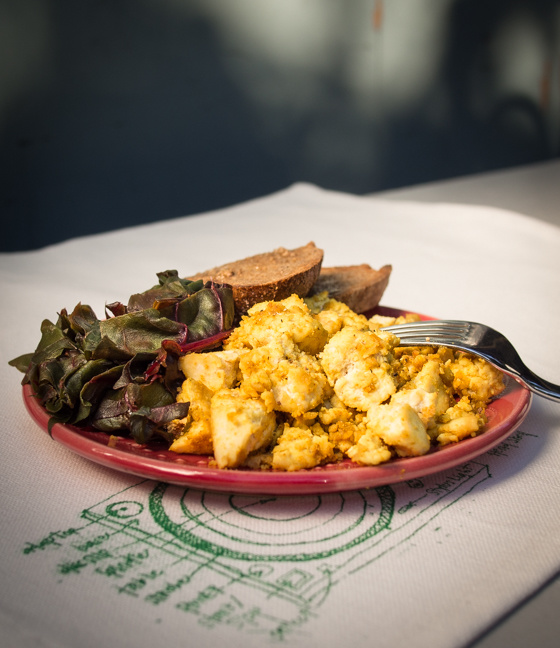 Herbivore's Tofu Scramble
Back when we ate eggs, there were never veggies in our scramble. So, on behalf of newbies, this recipe has nary a vegetable. Instead, the focus is on cooking tofu into a delicious breakfast, with some crispy parts and some soft parts, just the way a scramble should be. Serve it with toast or an English muffin and a side of fruit.

2 tablespoons nutritional yeast flakes
1 teaspoon garlic granules
1 teaspoon onion granules
½ teaspoon salt
⅛ teaspoon ground turmeric
1 teaspoon olive oil
1 package (1 pound) firm or extra-firm tofu, patted dry and crumbled
2 tablespoons water
Freshly ground pepper
Put the nutritional yeast, garlic granules, onion granules, salt, and turmeric in a small bowl and stir to combine. Set aside.
Put the oil in a medium skillet (cast iron if you have one) and tilt the skillet to spread it evenly. Alternatively, mist the skillet with cooking spray. Heat over medium heat. When hot, add the tofu and spread it evenly in the pan. Now, here's what to do: NOTHING. The secret is to leave the tofu alone and let the hot pan do the work so the tofu can brown. Cook, stirring only occasionally, until dry looking and parts are crispy, about 10 minutes. Sprinkle the nutritional yeast mixture over the the tofu, pour the water in the center, and stir until evenly distributed. Cover and remove from the heat. Keep covered until ready to serve. Season with pepper to taste.

Per serving: 194 calories, 19 g protein, 12 g fat (2 g sat), 4 g carbohydrates, 305 mg sodium, 131 mg calcium, 1 g fiber